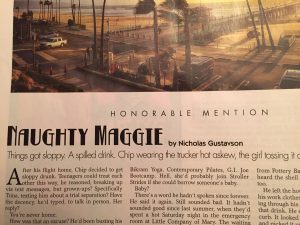 Pleased to see "Naughty Maggie" earned an honorable mention in this year's Easy Reader Writing Contest. The contest usually receives entries with a geographical focus on the South Bay, a region of Los Angeles that includes the southern shore of the Santa Monica Bay. The South Bay boasts several sun-kissed beach cities including El Segundo, Manhattan Beach, Hermosa Beach, and Redondo Beach, as well as near-coastal inland cities like Hawthorne, Torrance, and Lomita. Well, Torrance includes a sliver of beach, so let's call it a coastal town too. The winning contest entry was an excellent non-fiction piece about a Greek immigrant growing up in the South Bay in the 1950s, written by Spiros (Steve) H. Mikelatos, M.D..
My short story Naughty Maggie addresses nostalgia, crime, and bar culture in a tiny beach community known as El Porto, bounded by the El Segundo oil refinery to the north, and fancier Manhattan Beach to the south. Although El Porto is arrayed with expensive beach homes, there's a large encampment of twenty-something renters who lease rooms or units for a few years before moving on to more permanent digs, or a more responsible lifestyle that doesn't include Monday Night Football, Taco Tuesdays, Big Wednesdays, "start the weekend early" Thursdays, Friday nights out, daytime Saturday bike bar crawls, Saturday nights at the pier, Sunday champagne brunches, anything back shelf, top shelf, lower pantry that pours into a cup on Sunday night before dawn, before the work week arrives. And when that morning alarm clock screeches, take heart, my lovelies–there's only a few hours of corporate pain before happy hour.
I wanted to explore shared memories of El Porto's saltwater stretch of Highland Avenue, and take possession once again of its crumbling haunts with sandy bar tops before the backed-up urinals and sawdust floors disappear, remodeled into commercial bliss. I don't know if I succeeded, with a rigid 2000 word page count, but "Naughty Maggie" was darn fun to write.
Save
Save
Save
Save
Save